Get Well Flowers
Letting someone know you're thinking about them when they're sick or feeling down can make such a difference. Send your friend or loved one the gift of flowers to lift their spirits. Get Well Soon gift baskets are another great choice. We can fill them with juice and snacks, which is perfect for someone needing their bed rest. BALLOONS, BEARS, & BOUQUETS can deliver to all local hospitals as well as homes in Edmonton and even across the country! Give us a call, stop by, or shop online! We have everything you need for Get Well wishes.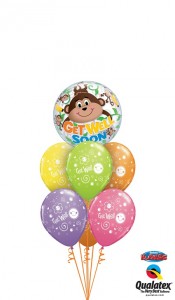 Quit monkeying around - Get Well soon
balloons
Do you have a sick Baboon that needs some cheering up - this is perfect for that little Gibbon!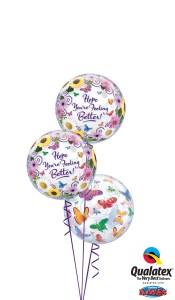 Feel better butterflies
balloons
An elegant way to send feel better wishes to someone special. This bouquet has no latex so it is perfect for the hospital or anyone with a latex allergy!
Hospitals and Health Care Providers in Our Delivery Area:
---

Name
Address
Phone

---

Alberta Hospital Edmonton
17480 Fort Rd Nw Edmonton, AB. T5B 4K3
(780) 472-5555
Allen Gray Continuing Care Ctr
7510 89 St Nw Edmonton, AB. T6C 3J8
(780) 469-2371
Baker Centre
10025 106 St Edmonton, AB. T5P 4P4
(780) 944-9580
Blue Quill Physiotherapy
288 Saddleback Road Edmonton, AB. T6J 4R7
(780) 988-2222
Boyle Mccauley Health Centre
10628 96 Street Nw Edmonton, AB. T5H 2J2
(780) 422-7333
Capital Care Dickinsfield
14225 94 St Nw Edmonton, AB. T5E 6C6
(780) 496-3300
Capital Care Grandview
6215 124 St Nw Edmonton, AB. T6H 3V1
(780) 496-7100
Capital Care Group
9925 109 St Nw #500 Edmonton, AB. T5K 2J8
(780) 448-2400
Capital Care Norwood
10410 111 Ave Nw Edmonton, AB. T5G 3A2
(780) 496-3200
Cbi Physiotherapy & Rehabilitation Centre - Edmont
11822 St Albert Tr Edmonton, AB. T5L 4G4
(780) 423-2944
Central Park Lodge
5905 112 St Nw Edmonton, AB. T6H 3J4
(780) 434-1451
Central Park Lodge
8903 168 St Nw Edmonton, AB. T5R 2V6
(780) 489-4931
Choice Day Ctr & Clinic
10530 56 Ave Nw Edmonton, AB. T6H 0X7
(780) 431-3901
Choice Program
10410 111 Ave Nw Edmonton, AB. T5G 3A2
(780) 944-8662
Clareview Family Medical Clinic
4950 137 Ave Nw Edmonton, AB. T5Y 2V4
(780) 479-1999
Community Care & Public Health
10216 124 St Nw #300 Edmonton, AB. T5N 4A3
(780) 413-7900
Cross Cancer Institute
11560 University Ave Nw Edmonton, AB. T6G 1Z2
(780) 432-8771
Dunluce Physical Therapy
12112-161 Ave Edmonton, AB. T5X 4W5
(780) 472-8989
Edmonton Addiction Youth Services
12325 140 Street Edmonton, AB. T5L 2C9
(780) 422-7383
Edmonton General Hospital
11111 Jasper Ave Nw Edmonton, AB. T5K 0L4
(780) 482-8111
Extendicare Health Svc Inc
13210 114 St Nw Edmonton, AB. T5E 5E2
(780) 454-8616
Extendicare Health Svc Inc
8657 51 Ave Nw #306 Edmonton, AB. T6E 6A8
(780) 468-7210
Extendicare Health Svc Inc
8008 95 Ave Nw Edmonton, AB. T6C 2T1
(780) 469-1307
Gerald Zetter Care Ctr
9649 71 Ave Nw Edmonton, AB. T6E 5J2
(780) 431-3623
Glen Sather Sports Medicine Clinic
Rm E-05 Van Vliet Centre University Of Alberta Edmonton, AB. T6G 2H9
(780) 492-4752
Glenrose Rehabilitation Hosp
10230 111 Ave Nw Edmonton, AB. T5G 0B7
(780) 471-2262
Good Samaritan Society
10525 19 Ave Nw Edmonton, AB. T6J 6X9
(780) 413-3520
Good Samaritan Society
4225 107 St Nw Edmonton, AB. T6J 2P1
(780) 431-3861
Grey Nuns Hospital
1100 Youville Dr W Edmonton, AB. T6L 5X8
(780) 450-7000
Hardisty Nursing Home Ltd
6420 101 Ave Nw Edmonton, AB. T6A 0H5
(780) 466-9267
Hawkstone Physical Therapy
18332 Lessard Road # 206 Edmonton, AB. T6M 2W8
(780) 930-1331
Healthstar Chiropractic
2843 Millwoods Rd. Edmonton, AB. T6K 4A9
(780) 450-8854
Henwood Treatment Centre
18750 18 St Nw Edmonton, AB. T5Y 6B9
(780) 422-9069
Jubilee Lodge Nursing Home Ltd
10333 76 St Nw Edmonton, AB. T6A 3A8
(780) 469-4456
Lash Up Edmonton
17232 95 Ave Nw Edmonton, AB. T5T 6P1
(587) 524-8772
Laurier House
16815 88 Ave Nw Edmonton, AB. T5R 5Y7
(780) 413-4712
Laurier Physical Therapy
14915-107 Ave Edmonton, AB. T5P 0X8
(780) 489-7964
Leading Edge Physiotherapy
11160 River Valley Road Edmonton, AB. T5J 2G7
(780) 761-1160
Lifemark Health Institute
154 Meadowlark Health Centre Edmonton, AB. T5R 5W9
(780) 429-4761
Lifemark Physiotherapy
303-6430 28 Ave Nw Edmonton, AB. T6L 6N3
(780) 469-9670
Links Clinic
104 11910-111 Ave Edmonton, AB. T5G 3G6
(780) 454-0351
Lois Hole Hospital For Women
10240 Kingsway Ave Edmonton, AB. T5H 3V9
(780) 735-4510
Long Term Care Psychiatric Svc
10216 124 St Nw #406 Edmonton, AB. T5N 4A3
(780) 496-7598
Mazankowski Center
8440 112 Street Northwest Edmonton, AB. T6G 2B7
(780) 407-8408
Mc Connell Place North
9113 144 Ave Nw Edmonton, AB. T5E 6K2
(780) 496-2575
Mc Connell Place West
8720 165 St Nw Edmonton, AB. T5R 5Y8
(780) 413-4770
Medinurse Guest Home Ltd
4513 27 Ave Nw Edmonton, AB. T6L 3X3
(780) 461-4089
Mewburn Veterans Ctr
11440 University Ave Nw Edmonton, AB. T6G 1Z1
(780) 496-7160
Mill Creek Animal Hospital
8606 99 Street Northwest Edmonton, AB. T6E 3T9
(780) 432-7297
Millwoods Centre
101 Youville Drive East Nw Edmonton, AB. T6L 7A4
(780) 431-3600
Millwoods Shepherd's Care Ctr
6620 28 Ave Nw Edmonton, AB. T6K 2R1
(780) 463-9810
Millwoods Sprots Plus Physical Therapy Clinic Inc
210-2603 Hewes Way Edmonton, AB. T6L 6W6
(780) 466-9900
Mira Jindani Physiotherapist
10397 51 Ave Nw Edmonton, AB. T6H 0K4
(780) 306-0808
Misericordia Comm Hospital
16940 87 Ave Nw Edmonton, AB. T5R 4H5
(780) 930-5611
Mount Pleasant Care Ctr
10530 56 Ave Nw Edmonton, AB. T6H 0X7
(780) 431-3600
North Edmonton Comm Health Ctr
14007 50 St Nw Edmonton, AB. T5A 5E4
(780) 472-5000
Our House Addiction Recovery Centre
22210 Stony Plain Road Nw Edmonton, AB. T5S 2C3
(780) 474-8945
Physical Therapy Centre
4225 23 Ave Edmonton, AB. T6L 5Z8
(780) 440-9003
Pilgrams Hospice
10065 100th Street Edmonton, AB. T5N 3E8
(780) 413-9801
Qualicare Health Svc Corp
14931 9 Ave Sw Edmonton, AB. T6W 1A4
(780) 438-1800
Regional Continuing Care Svc
10216 124 St Nw #406 Edmonton, AB. T5N 4A3
(780) 496-7500
Regional Palliative Care
1100 Youville Dr W #5211 Edmonton, AB. T6L 5X8
(780) 450-7797
Rejuvenation Health Services Inc
2051 Leger Road Edmonton, AB. T6R 2S9
(780) 431-9623
Remed Rehabilitation Centre Ltd
High Park Corner 217-14925 111 Ave Nw Edmonton, AB. T5M 2P6
(780) 451-2244
River Valley Health
Fairbanks Physiotherapy Crop 1610 College Plaza Edmonton, AB. T6G 2C8
(780) 430-9224
Riverbend Retirement Residence
103 Rabbit Hill Crt Nw Edmonton, AB. T6R 2V3
(780) 438-2777
Royal Alexandra Hospital
10240 Kingsway Nw Edmonton, AB. T5H 3V9
(780) 477-4111
South Edmonton Physical Therapy & Sports Rehab Inc
3010-106 St Edmonton, AB. T6J 5M5
(780) 438-0001
St Joseph's Auxiliary Hospital
10707 29 Ave Nw Edmonton, AB. T6J 6W1
(780) 430-9110
St Michael's Extended Care Ctr
7404 139 Ave Nw Edmonton, AB. T5C 3H7
(780) 473-5621
St Michael's Long Term Care
7404 139 Ave Nw 1st Flr Edmonton, AB. T5C 3H7
(780) 472-4517
Strathcona Physicotherapy Therapy
211 8225-105 St Edmonton, AB. T6E 4H2
(780) 439-4181
University Of Alberta Hospital
8440 112 St Nw #2c1 Edmonton, AB. T6G 2B7
(780) 407-6854
Venta Nursing Home Ltd
13525 102 St Nw Edmonton, AB. T5E 4K3
(780) 476-6633
Victoria Trail Physicotherapy
180 550 Clareview Road Edmonton, AB. T5A 4H2
(780) 473-7665
Wedman House
10525 19 Ave Nw #1 Edmonton, AB. T6J 6X9
(780) 431-3600
Whitemud Rehab Centre Ltd
8 3908-97 St Edmonton, AB. T6E 6N2
(780) 408-3115
Mission Ridge Animal Hospital
51 Liberton Drive Saint Albert, AB. T8N 5J1
(780) 458-3833
Sturgeon Valley Physiotherapy - Pt Health
31 Liberton Dr Saint Albert, AB. T8N 3X6
(780) 459-5015
Casey Dental Clinic
#805, 220 Lakeland Drive Sherwood Park, AB. T8A 0A6
(780) 464-2525
Sherwood Park Care Ctr
2020 Brentwood Blvd Sherwood Park, AB. T8A 0X1
(780) 467-2281
Sherwood Park Physiotherapy - Pt Health
501 Bethel Drive, #209 Sherwood Park, AB.
(780) 449-0544
Strathcona Care Ctr
12 Brower Dr Sherwood Park, AB. T8H 1V3
(780) 467-3366